Challock & Molash Gardening Society
On Saturday the 3rd of December more than thirty members thoroughly enjoyed a Christmas party held in Molash village hall. The event was very successful with many fun-filled items. Not too-serious quizzes occupied members little grey cells, a humorous monologue given by Roger, a scary story told by Martin and a skit on Mastermind performed by Roger and Ray were some of the entertainment highlights.
Members sung Carols (led wonderfully by Andrew) with great gusto, particularly a very noisy and participate version of 12 days of Christmas. Games to win bottles of Prosecco were also well supported. A wonderful buffet was complemented with gallons of boozy mulled wine. Thanks to Delenda and Tierney for their hard work.
Two raffles were held with prizes already beautifully wrapped by Karen for one raffle. The second raffle was for the prize of a lovely Christmas cake made and decorated by our own Lady Baker, Delenda. Anne was the lucky winner of the cake.
All in all, a great lead into Christmas enjoyed by members. A big thank you to all who came along to the festivities and supported so well. See you in the New Year.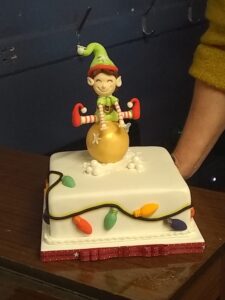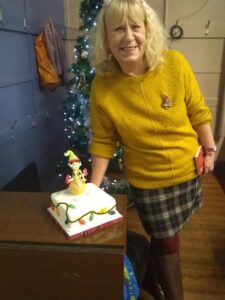 Challock & Molash Gardening Society
On Saturday the 12th November, the Society held a wonderful evening in Molash village hall sampling eight sparkling wines chosen by our own Roger Mudge. The members enjoyed the sparklers from around the world of wine in a session titled "Have yourself a sparkling Merry Christmas!"
Roger gave members the benefit of his vast knowledge on all things wine with his talk which was presented and illustrated beautifully. Bread & cheese was munched along with the supping of wine. A raffle was held, of course, to complete the very enjoyable evening. Some attendees were observed wobbling slightly when they left the hall, non-drivers obviously. Thanks go to Roger for the talk and to Karen & Steve for their steady hands when pouring the wine. And to Ray for the IT magic.
The last event of the year will be our raucous Christmas party on Saturday 3rd December to ease us into early Chrissy celebrations. I think we will be in need of some cheer in these tough times.
Challock & Molash Gardening Society
On Saturday the 15th October the Society held its Autumn Show and also hosted a very interesting and eye-opening talk from military veteran Kemsley Whittlesea on The Walking With The Wounded charity.
Thirty eight members enjoyed a great evening entering and admiring some beautiful floral, fruit and vegetable classes as well as judging and tasting the baking class of a Lemon Loaf. The number of entries across all classes was a record for the Society and reflected the imagination and work involved to produce some wonderful floral works of art. The Best in Show trophy was shared by Margaret Franklin-Bourne and Kim Lowe who both created very different artistic and colourful flower arrangements. The baking class produced some excellent, tasty cakes and was won by Anne Loftus. Attendees made short work of devouring the cakes after judging! Congratulations and thanks to all who entered the various classes.
Kemsley gave an informative, illustrated talk about the Walking With The Wounded charity explaining why it was formed, how it operates and who it helps. Attendees learned a great deal about the great work it does for those in need, those brave people who have served in the military. A very sobering but necessary understanding. The Society sponsored the evening and members responded most magnificently by buying raffle tickets and making donations. The wonderful sum of £533.00 was raised and given to a very grateful Kemsley. The money will be most welcomed by the charity to help fund their great work. Many thanks to all members for supporting the evening, you made the difference.
And of course lovely sandwiches and other tasty foods were enjoyed along with the requisite alcohol. Thanks go to Delenda, Tierney and Anne for their culinary efforts. All in all, a terrific close to the gardening calendar.
Walkingwiththewounded.org.uk for more info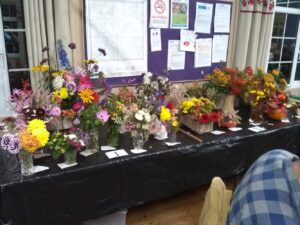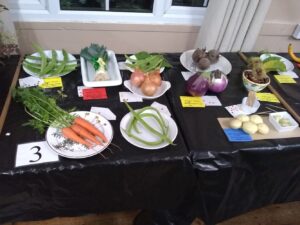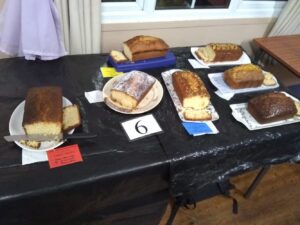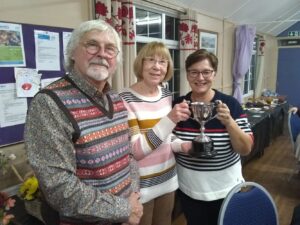 Schedule of Events 2022
NOVEMBER Saturday 12th.
More alcohol. At the time of writing this schedule, Karen Mudge is trying to persuade husband Roger to organise a wonderful wine-tasting evening. The best of English wine should be a treat for our taste buds. Watch this space!
DECEMBER Saturday 5th.
Yes, Christmas already (nearly) planned!! Get ready to roll merrily into Christmas with our fun-filled social evening of great food, boozy booze, easy-peasy quizzes, raucous singing of carols and lots more. Looking forward to it already!
Don't forget to put these dates in your diary as priorities. More detail nearer the event dates.