Challock & Molash Gardening Society
On Saturday the 2nd April the Society held its Spring Show which was attended by 20 members despite the poor weather experienced a few days before. Remember the snow, strong winds and cold temperatures? There were many excellent displays in the various classes with daffodils proving to be both hardy and beautiful. Delenda James was awarded the Best in Show trophy for her wonderful flower arrangement in an egg cup. The blooms were revealed as being crafted from sugar, innovative.
Members also enjoyed a delicious buffet with wine and a humourous recital from Martin Hook. An opportunity to have a chin-wag with friends and win great prizes in the raffle completed a very enjoyable evening.
The next event is the trip to the National Flower Show on 21st May.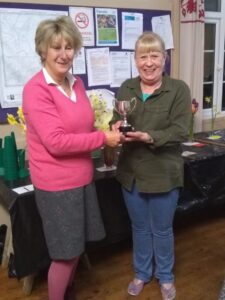 Schedule of Events 2022
MAY Saturday 21st.
A coach trippy to the lovely National Flower Show at Hylands House, Chelmsford. www.nationalflowershow.co.uk is the website to visit to find out all the great stuff that's happening here. Shop to your heart's content and see all the flowers, shrubs, trees, furniture etc that you can bring to your own garden. Many, many exhibitors displaying their wares in the grounds of a lovely house. A wide range of unusual plants etc on offer along with food and refreshments. The Society is helping to fund the coach hire which means travel and entry will be approx. £20.00 pp. Bargain for a good day out. Tickets have to be bought and coach booked so please advise me asap if you are coming along.
JUNE Saturday 25th.
This day marks Armed Forces Day and provides us with an opportunity do some much needed fundraising for the Walking With The Wounded charity. "Established in 2010, Walking With The Wounded 'WWTW' is a leading military charity which recognises that those who served, deserve. We do four things: employment, mental health, care coordination and volunteering which are saving jobs, homes, relationships and lives for the veterans who are struggling since leaving the military."
t'committee have agreed to wholeheartedly support WWTW by hosting an event to meet Kemsley Whittlesea and hear about some of the great things the charity do for veterans and their families. Kemsley is a local veteran who now takes on challenges to fundraise. He will be trekking in the Sahara over 100 kilometres in November to add to his 1,000 mile walk in the USA completed recently. Kemsley obviously enjoys a little stroll. More details on this worthy event will be shared nearer the time but put the date in your diary as we are looking for a full house in Molash village hall. We know you will be generous in your support. To help understand a bit more about WWTW and Kemsley I have attached a short video to this email. You can also visit website www.walkingwiththewounded.org.uk
JULY Saturday 16th.
Our own splendid Summer Show and BBQ. More fabulous flowers, shrubs, arrangements and baking to wonder at from our own members. Plus, the scrumptious food from the barbie along with delicious salads etc. What's not to like?
SEPTEMBER Saturday 3rd.
A coach trip to beautiful RHS Wisley is our treat for today. Always a pleasure to wander in this vast garden and see what the gardeners have been up to.
OCTOBER Saturday 15th
Autumn arrives again and we welcome it with our amazing Autumn Show where members will be displaying the fruits of their labour during the year. Yes of course there will be food and alcohol to enjoy.
NOVEMBER Saturday 12th.
More alcohol. At the time of writing this schedule, Karen Mudge is trying to persuade husband Roger to organise a wonderful wine-tasting evening. The best of English wine should be a treat for our taste buds. Watch this space!
DECEMBER Saturday 5th.
Yes, Christmas already (nearly) planned!! Get ready to roll merrily into Christmas with our fun-filled social evening of great food, boozy booze, easy-peasy quizzes, raucous singing of carols and lots more. Looking forward to it already!
Don't forget to put these dates in your diary as priorities. More detail nearer the event dates.