Challock & Molash Gardening Society
On Saturday the 16th July the Society held its Summer Show which was attended by 36 members who enjoyed turning out in beautiful sunny and hot weather. We knew it was summer 'cos the water supply was turned off in Challock and bottled water was being given out instead by the water company!
Molash village hall was filled with lovely exhibits of flowers, shrubs, vegetables, all providing a wondrous sight. Seven trophies were awarded on the night with the winners being; our own perennial Jim Watson, Delenda James, Kim Lowe, hubby Paul Lowe, Pauline May, an expectant Jess Bell and Anne Loftus & Pauline May sharing a trophy. Congratulations to all and thanks to all who made the effort to enter exhibits.
A delicious mouth-watering BBQ repast was perfectly cooked by chefs Chris, Paul and Ray. Tasty salads and cakes made with love by Delenda, Tierney, Karen and Anne provided diners with a veritable feast. Alcohol helped as well.
An excellent evening with members taking the opportunity to meet and chat. Thank you to all came along
Next event is a coach trip to RHS Wisley on 3rd September.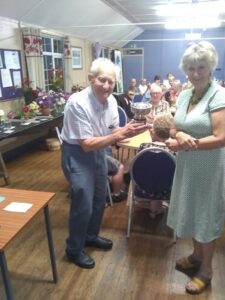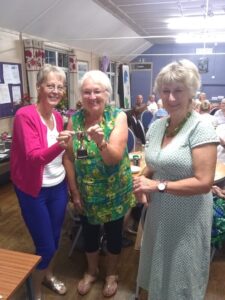 Schedule of Events 2022
SEPTEMBER Saturday 3rd.
A coach trip to beautiful RHS Wisley is our treat for today. Always a pleasure to wander in this vast garden and see what the gardeners have been up to.
OCTOBER Saturday 15th
Autumn arrives again and we welcome it with our amazing Autumn Show where members will be displaying the fruits of their labour during the year. Yes of course there will be food and alcohol to enjoy.
NOVEMBER Saturday 12th.
More alcohol. At the time of writing this schedule, Karen Mudge is trying to persuade husband Roger to organise a wonderful wine-tasting evening. The best of English wine should be a treat for our taste buds. Watch this space!
DECEMBER Saturday 5th.
Yes, Christmas already (nearly) planned!! Get ready to roll merrily into Christmas with our fun-filled social evening of great food, boozy booze, easy-peasy quizzes, raucous singing of carols and lots more. Looking forward to it already!
Don't forget to put these dates in your diary as priorities. More detail nearer the event dates.